11:09 am - 14/03/2014
We have been longing for Abbey Lee Kershaw to occur on the fashions scene for a while now after a quiet break from the business. In these minimalistic black & white portraits by Creative Director Hedi Slimane the model & muse look as cool as ever. The man himself has made sure that only the most interesting personalities front his campaigns for the brand giving the old YSL a new approach.
4:44 pm - 07/03/2014
Hope Fashion Show in Paris A/W 2014 Behind the scene from HopeSthlm on Vimeo.
Merging fashion with function is Hope´s device. The collection presented in Paris a few days ago was all that, but also more edgy than what we have seen from Hope previously. The lok is still a tailored merge of female & masculine, but this time the pieces had a hint of 90´s to them that make the overall statement look a tiny bit punk. Layering is big also this season, and Hope was no exception. In the video above you can view exclusive material from the show!
11:07 am - 06/03/2014
Catching up on fashion week, one of the biggest moments anticipated must be Nicholas Guesquiére´s – former designer for Balenciaga – first collection for iconic label Louis Vuttion. On the last day of Paris fashion week the fashion crowd gathered and the buzz has been circulating the brand a lot the past few days. Ghesquiére wrote a very personal letter starting with 'Today is a new day. A big day…Words cannot express exactly how I am feeling at this moment" cementing his big 'comeback'.
The collection was full of classical pieces but with that added Ghesquiére touch which roughens every piece. Most dominant was the a-line silhouette, with a contoured waist and hour glass silhouette coherent through the collection. The color choices are natural and in line with what Louis Vuitton stands for, but with a few accent colors like dark orange.
—
Photos courtesy of Style.com
Written by Simone Brenemark Molvidson
1:28 pm - 28/02/2014
H&M Studio is the name for H&M's new key seasonal fashion collection. It had it's first appearance at Paris FW on Wednesday when the historical Grand Palais was turned in to a catwalk. Not only was the catwalk filled with billboards it also had a stage with a live performance, the new french upcoming musician HollySiz.
H&M Studio will offer a limited-edition collection of the hottest looks and statement pieces. The collection will be available in around 250 stores worldwide, as well as online, from September 4, 2014.
This years collection was dominated by a mix of feminine with masculine, with slip dresses and draped tops worn under men's blazers, biker and aviator jackets. Fabrics included silk crepe, silk satin, fine cashmere and velvet. Fake fur coats added texture with detailing from sequin and stone embroidery.
"It's so good to be at H&M Studio in Paris to see this limited edition collection. H&M is such a wonderful brand – it's affordable, wearable, and very fashion forward", says Miranda Kerr, who is the new face for H&M ss14.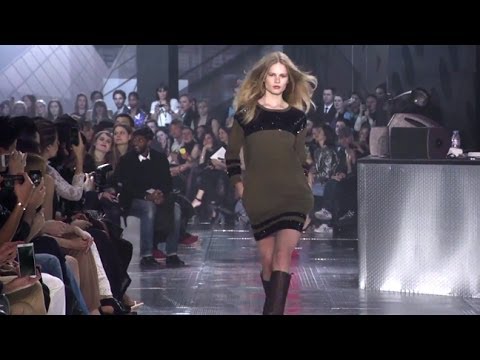 2:39 pm - 26/02/2014
This iconic images are shot by Peter Lindbergh for Louis Vuitton with Edie Sedgwick and Karen Elson in South Africa. The campaign called 'spirit of travel' is not manipulated, but shot with real human and animal interaction. The products are classic Louis Vuitton bags and trunks, and the photos are styled by our all time favorite Carine Roitfeld.