Archive for category
'Fashion Week'
1:28 pm - 28/02/2014
H&M Studio is the name for H&M's new key seasonal fashion collection. It had it's first appearance at Paris FW on Wednesday when the historical Grand Palais was turned in to a catwalk. Not only was the catwalk filled with billboards it also had a stage with a live performance, the new french upcoming musician HollySiz.
H&M Studio will offer a limited-edition collection of the hottest looks and statement pieces. The collection will be available in around 250 stores worldwide, as well as online, from September 4, 2014.
This years collection was dominated by a mix of feminine with masculine, with slip dresses and draped tops worn under men's blazers, biker and aviator jackets. Fabrics included silk crepe, silk satin, fine cashmere and velvet. Fake fur coats added texture with detailing from sequin and stone embroidery.
"It's so good to be at H&M Studio in Paris to see this limited edition collection. H&M is such a wonderful brand – it's affordable, wearable, and very fashion forward", says Miranda Kerr, who is the new face for H&M ss14.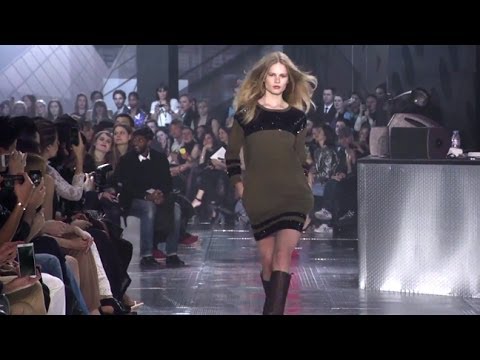 11:47 am - 10/02/2014
Altuzarra fall winter 2014 could never get near the hype that circulated the lates collection for spring & summer – that collection still cause cardiac arrest to most fashion hearts including ours – But it was in no way a bad collection. The pieces where just a bit more mature & elegant and with less edge, which perhaps might sound negative but could actually be the opposite. The mix of materials was intriguing  and those rug rat fabrics that was seen as detailing on some pieces and was fully used on others where the stand out pieces for this collection. Somehow we got to thinking about the best of Proenza Schouler (the color mixes and patterns that occurred with this fabric) and last years Celine (because of that rugged feeling). It might have had less of that wow effect than the previous collection, but this is a great collection anyway.
Photos courtesy of Style.com
11:24 am - 06/02/2014
New York fashion week is one of the most anticipated fashion weeks, with only Paris to match. The american scene hosts all the most wearable brands with most commercial success but perhaps also with the most edge. This year it has been much talk about Alexander Wang´s show that will be presented in a venue in Brooklyn, raising many eyebrows and making cab´s busier than new years eve since no one wants to miss the one brand that ultimately represents NYC. We also have to mention Rodebjer, one of our favorite Swedish brands that have moved to New York. We will of course follow all the action closely here on Articles, but make sure to check out our two girls on the other side of the pacific: Carolina Engman a.k.a Fashionsquad and Eddie Mitsou.

Above you can view the best shows from New York fashion week in our live stream.
10:08 am - 05/02/2014
TONI&GUY Hair Meet Wardrobe TV: Best of Fashion Week AW'14 from Fashion Networks on Vimeo.
Mercedes Benz fashion week in Stockholm is over but we are still contemplating what we believe are the key pieces for fall, the main trends and the most mind blowing designs. In this clip produced by BON in collaboration with Toni & Guy you can see snapshots from some of our favorite moments during MBFW.
3:09 pm - 03/02/2014
Designers Remix is a brand of contrasts – feminine vs. masculine, neutral vs. eclectic, earth shades vs. accent colors – and the fall/winter collection for 2014 is no exception.  The shapes are feminine but the attitude created with references like the army have androgynous tendencies. There is also an edge to these looks, created through the small changes that are made to more ordinary objects. The high military hats, elbow long gloves and both glossy and matte materials combined, but also a line up starting with brown, beige and white turning into bright red, pink and royal blue and then full on black looks. It turns heads without craving attention. This is a perfectly balanced collection between edgy but still wearable, high fashion but still commercially viable.
View runway & backstage photos in the gallery below!
Photos courtesy of Designers remix, written by Simone Brenemark Molvidson